Singapore Association of the Visually Handicapped National Day Rock Climbing Team Building & Bonding 2018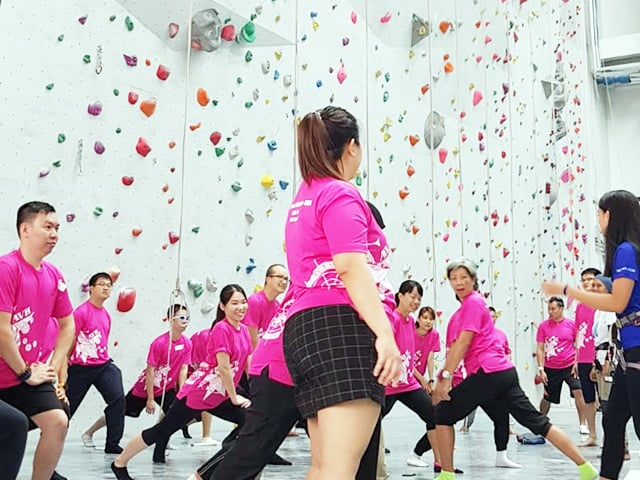 The Singapore Association of the Visually Handicapped organised a rock-climbing activity for their visually-handicapped clients and each of them was paired with a volunteer/staff member. Through the activity, the volunteers gained a heightened sense of awareness and deeper understanding of the challenges faced by the visually handicapped community. They also helped their partners to build trust and confidence in them as they guided them to the top and for the descent. By placing their interests and needs before their own, these volunteers had to think of ways to ensure the safety of their partners while keeping it enjoyable and stress-free.
This non-competitive activity was a fun day-out for all the participants and brought together the visually handicapped and non-visually handicapped communities to celebrate National Day together.
Cedar National Day Bay Run 2016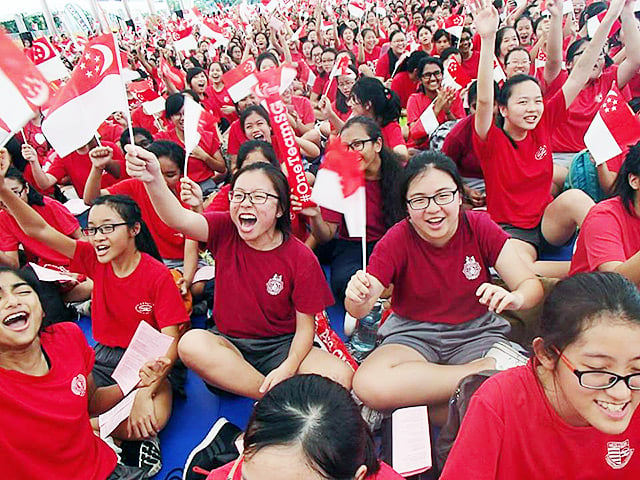 For their National Day celebrations in 2016, Cedar Girls' Secondary School invited their students, alumni, parents, staff members and invited guests to Marina Bay for the observance ceremony, followed by a run by along the promenade and participation in traditional games e.g., five stones. The celebration ended on a high with the 1,550 participants singing along to a medley of national day songs.
Following the success of the event, Cedar Girls' Secondary School returned as an Active Enabler in 2017 – this time, their celebration was bigger with Victoria-Cedar Alliance (including Victoria School and Victoria Junior College) taking part in the mass event held at the Singapore Sports Hub, totalling 4,800 participants.
Seagate Get Active! – 52km Relay & Badminton Tournament 2017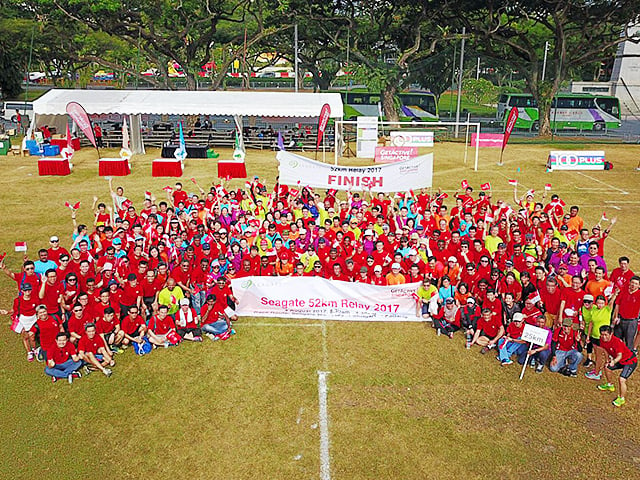 With offices in Singapore and our neighbouring countries, Seagate saw every National Day period as an opportune time to bring their staff members together and get active. During the week, they organised a challenge for the staff members to pit against one another in the 1-min skipping/hula hoop/jumping jacks competition during lunchtime. Fitness enthusiasts had the opportunity to participate in the a variety of workouts. In addition, they held a badminton tournament between the different office sites.
The marquee events for the 2017 edition were a 52km relay from their Woodlands office that ended at Padang (a GetActive! Singapore festival site) and a human formation of SG52 to mark the nation's birthday. The celebration continued there with a soccer match and telematches to allow non-runners to represent their teams in the competition. Altogether, more than 600 staff members took part in the week-long celebrations.